Sao Paulo, Brazil (CNN) -- The violin she uses is cheap by most standards: made in China, it costs about $150.
But that's an absolute fortune for Yanca Leite. On the day we visited her, the 15-year-old aspiring musician couldn't even afford breakfast.
Yanca shares a one-bedroom shack with eight relatives in a sprawling shantytown on the outskirts of Sao Paulo called Paraisopolis, or Paradise City.
The narrow path leading to their door is lined with the bottles and cans they collect to supplement their income.
"The guy who recycles these bottles didn't pick them up and pay us," Yanca said. "So we didn't have money to buy bread."
Yanca rarely sees her father, who is in and out of jail, or her mother, a live-in maid who she says is working hard so her kids can get out of the slums.
But Yanca thinks she has finally discovered her own way out: music.
Less than a year ago, she joined a new classical music project at the Paraisopolis cultural center. Each student is given a violin and offered free -- yet very intensive -- classes once a week.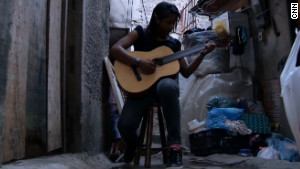 Yanca Leite, 15, has a modest dream to become a music teacher for other slum children like herself.
"Music has changed my life," she said. "I study eight hours a day all of the instruments I have at home: violin, guitar and keyboard."
The program was dreamed up by Joao
(click here to read article)