Internationally known pianist Van Cliburn will give the public a glimpse of his personal life when Christie's auctions more than 150 pieces he collected through the years.
"There's some other things I was wanting to do, and I said, 'This will give me the opportunity to do it,'" Cliburn told NBC 5 in an exclusive interview. "And while I feel young, it's always nice to be thinking of tomorrow."
The past sealed Cliburn's place in history. He was a 23-year-old, fresh-faced, wavy-haired kid from Texas in 1953 when he claimed victory at the first International Tchaikovsky Competition in Moscow.
Time magazine put on the him on the cover that year and called him "The Texan Who Conquered Russia." World-wide fame and full concert houses followed. At 77, he is still a darling in the classical music world.
"I mean, after all, he is one of the biggest classical musicians of the 20th and 21st century," said Capera Ryan, vice president and the head of Christie's for the Dallas/Fort Worth area. "His passionate pursuit for music as well as collecting these objects is really unbelievable."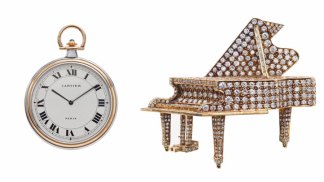 Van Cliburn Collection Auction
Christie's New York
May 17, 2012
Christies.com