Opera of the future
Robotic and music combo gives audience something new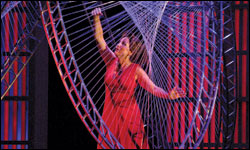 Pressure on the strings of the musical chandelier can change the sounds of Maddalena's voice.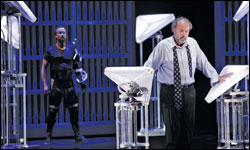 James Maddalena, left, interacts with the 'operabots' before his exit into the isolation booth.
For years, Tod Machover has run the "Opera of the Future" group at the MIT Media Lab in Cambridge, Mass. But he's lived a double life. Not content to be a well-regarded composer, he's also an inventor, creating instruments and robots that are transforming the way music is performed.
His latest futuristic opus, "Death and the Powers," is a 90-minute one-act opera, with libretto by Robert Pinsky, directed by Diane Paulus. It incorporates cutting-edge robotics, and uses a technology Machover dubs "disembodied performance" that requires its star, baritone James Maddalena, to act out almost the entire program out of sight or earshot of the audience -- even while a high-tech translation of his performance appears on the stage.
Production designer Alex McDowell, who worked with MIT to create the gestural computer interfaces for the film "Minority Report," says of "Death and the Powers": "I was taken places that were outside my experience or even my understanding, in some cases."
"Death and the Powers" tells the story of Simon Powers,..................